Stand with Ukraine. Save peace in the world!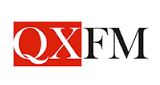 QX-FM
All of our programming originates in our studios in Chalk Hill, Texas. We're the home of America's Original Classics. It's an eclectic mix of the greatest hits of the 40's 50's and 60's along with music from today's artists who are smart enough to know a good tune when they hear it! You'll hear Dean Martin, Frank Sinatra, Nat Cole, Peggy Lee, Rosemary Clooney, Ella Fitzgerald, Michael Buble, Bette Midler, Diana Krall, Tony Bennett, Sammy Davis Jr. The Tijuana Brass, Artie Shaw, Glenn Miller and hundreds other favorites.
QX-FM reviews
Have listened for years when my husband and I were within reach on our way to my parents ranch. So glad to get the station online. Keep it going.

We love your station, you keep alive the beautiful music of our lives!

I love your station. I hear you fine on the PC which is great, the music apps on my Smart TV block you but the sound quality via the PC is excellent anyway - better than the TV . I love the music, just my style.

Olivera Zdravkovic

07.03.2020

i love to listen your music the great music it is from serbia many thanks for that

Yekusiel Silberfeld

09.01.2020

I LOVE YOUR RADIO STATION. KEEP ON PLAYING THE GREAT MUSIC YOUR ARE PLAYING.

Sylvie Epstein

24.12.2019

From France, I m always listening to this channel I feel like I'm still in East Texas ,LOVE and MISS Y'ALL!

Daniel Delaney

04.09.2019

the last time I was able to listening to this station over 2 mos ago it was the best station on radio. I do not know why I have no longer been able to get this station.....sucks!!!!
Radio contacts
Fax us at: (903)643-8272