Stand with Ukraine. Save peace in the world!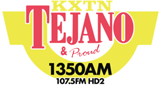 KXTN 107.5 FM
KXTN 107.5 FM is a radio station broadcasting a Tejano format. Licensed to San Antonio, Texas, USA, the station serves the San Antonio area.
KXTN 107.5 FM reviews
What is wrong with your station I got the app and it says not available

WHEN IS CALMA PLAYING AT THE MARKET SQUARE SEPT, 15 ARE 16

Magdalena Castanon

02.05.2023

It is me again can you play some Pete Astudillo and more of Elsa Garcia? ;0)

What's the word on Market Square today?

San Juan Perez

20.04.2023

I love Tejano Thursdays!!!

Catherine Hogwood

16.03.2023

Love this station. In Waco, Texas and they do not have any Tejano radio stations. Music is wonderful. Love, Love, Love!!!

Tejano music n barbaqoa . No one does it like San Anto. I'm over here in Littlefield TX and this is the station I listen to. I go from TX , NM , Arizona ,Kansas , Colorado , Oklahoma and KXTN 107.5 is with me all the way. Yall are BAADD ASSSS. Q-VO

Elizabeth Arispe

17.01.2023

WOW Thank God playlists like these can still be heard...San Anto is the best place in the whole wide world for everything period...We miss it all so much la comida la jente las fiestas...Puro San Anto...Greetings from the DMV (DC/Maryland/Virginia) 17 years now

Great music. Wondering why the Radio station don't play Joe Lopez song anymore?

ROSIE ALLISON VILLA- RAP

03.10.2022

Love the Playlist!! Great music!!