Stand with Ukraine. Save peace in the world!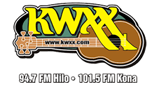 KWXX Radio
KWXX Radio is your Island Music station playing the best Island and Hawaiian Music on the Big Island
KWXX Radio reviews
been looking for a service like this for 10 yrs! good looking!

Yesenia Essie Maquinalez

13.07.2023

We just came back from Kona, missing it already. Then I remember this radio station!! 💜

How could it get any better????

Annette Stevens

15.01.2023

DA BOMB

First visit to Hawaii ever was 4/19/21. We stayed in Kona and found this station. We are still listening from San Diego🌺😃👍🏼🔥

Billy De Los Santos

01.12.2020

loved the station back when i worked in kona,driving from hilo 6 day`s a week back in the 90`s. so happy to listen again online. yessah, mahalo kwxx. listening from pearl city,honolulu. the wife going freak when i show her the phone app. aloha.....

Awesome,can take KWXX where ever my SOUL ROLL,yessah.....pomai/loeka

Number one big island radio. I love the "Kanaka Minutes" that was shared on air on the Pomai and Loeka show, Thanksgiving morning. My u'han'e was very moved. Thank you for sharing that moment of thankfulness. Truly, KeAkua reminds us always that our tribulations and hard times thru forgiveness are we made correct. Thru our Hewa' we learn humbleness and patience. For patience is humbleness, long suffering. But when we can admit and confess our hewa' unto KeAkua, all is forgiven. Then we can see clearly, Hate, huhu and jealousy in ones heart will have no room for the spirit of the Lord to dwell. But their is always hope to turn unto him. And he forgives. Yes we should all be thankful. Not just for one day of the year @ Thanks giving, Xmas, or any other holiday. But every day. Cause we all go thru some hardship along the way, yet we Ho'omanawanui and be greatful wether great or small the blessings. For all these holidays were created by Kanaka. Not KeAkua. Yes, from our hema' hema' we learn to strive into goodness when we are honest with our self and honest to KeAkua. Cause he says, " from the imperfect we become perfect" in his sight. Hey, thank you for sharing a "Thanksgiving" shot out to KeAkua who is our "ultimate thankfulness always" ery day..ery day ! aw' da' time' !! "Aloha KeAkua' ia ou' kou' ".

Emily Martinez

18.11.2019

We love your radio station. We are here visiting from Colton California for the very first time. It's our 30 year wedding anniversary and we have been listening to your radio station, feeling like we were 16 again. So relaxing and happy music with this awesome weather feeling this breeze hit our face driving along this Koana island. Loving every moment. Thank you .

Love KWXX but wish it wouldn't disconnect so much.
Radio contacts
REQUEST LINE PH#: (808) 296-KWXX (5999)
Fax :808 935-7761
https://www.instagram.com/kwxxfm/
Time in Hilo: ,