Stand with Ukraine. Save peace in the world!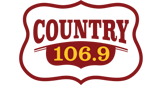 Country 106.9
KTPK (106.9 FM) is a radio station broadcasting a classic country format and is currently branded as "Country 106.9".
Country 106.9 reviews
This is a great station, I used to listen to it every night at work. But your signal in Manhattan KS. Is so weak now that its hard to pick up anymore, and when I do manage to tune you in you've got sports playing. Leave the sports to sport channels. Do what you do best play Country Legend's...!!!

This station would be the greatest station in the entire world if you would dump all the sports, music not ESPN.

Trenady Dryden

14.04.2019

Awesome classics

Karen Horner- Roland

12.02.2017

This is the GREATEST Music of ALL Time. But... Country Legends use to have an app? What happened I can't find it.
Radio contacts
https://www.youtube.com/channel/UCoIzMYRersq-RNtk4hiG3fw