Stand with Ukraine. Save peace in the world!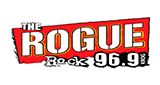 The Rogue 96.9
KROG (96.9 FM) is a radio station broadcasting a Modern Rock music format. We are your source for new rock in the Rogue Valley!
The Rogue 96.9 reviews
Christina Mazzi

12.05.2023

Way to much pearl jam, nirvana, stp alice in chains IT'S JUST TOOO MUCH on the other side its the best station in grants pass!!!

i was on this radio every day for 5 months

For the love of God, will you guys play some new songs!?!

Chadwick Graham

15.02.2021

Good rock mix

station is awesome and best there is. Roseburg has zero music choices.

Love this station. I listen to you guys every morning on my way to work and on my way home. I have this station on my computer, so I can listen all day.. Thank you for being awesome!

Best rock mix for work week listen in scappoose

Dennis Jacobson

13.06.2019

Used to be really good station then they started playing disturbed every 5 mins ...and everyone knows disturbed sucks!!!