Stand with Ukraine. Save peace in the world!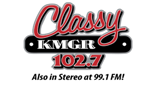 Classy FM - KMGR
Classy FM 99.1 FM (KMGR) is a radio station licensed to Nephi, Utah, United States. The station is broadcasting a soft adult contemporary format, and is an affiliate of ABC News Radio.
Classy FM - KMGR reviews
Russell Behrmann

29.07.2023

I worked radio in St. Anthony, Rexburg and Idaho Falls as well as Salt Lake City. Your station takes me back to the glory days of radio. News, music and personality blended in a down home classy way. Keep it up.

Love your station. What's happened to Ray Douglas??. Please ditch ABC "news"

Erik Schofield

19.07.2022

I'm so happy I found your station! I was born in '93 and all these songs take me back to when I was a kid and my parents were listening to the radio in the kitchen. It's so relaxing and brings me a lot of happiness to hear all these songs again! Thank you for such an awesome station!

Come on, it is 2022 and still not smart speaker app??????

Wonderful station. I love your music (Christmas Music) & Sunday programming. When your nasty ABC News comes on, which doesn't represent the conservative American values of most of us, I turn off your station until is done. PLEASE consider dumping this Liberal Brainwashing fake news...it does NOT behoove your Stations reputation. We appreciate everything else!! Thanks and Sincerely

Love the music you play and especially the program you have on Sundays. We are a conservative state and so sick of hearing all the brainwashing propaganda being spewed on ABC news, for that reason I'm giving 3 stars. Thank God Sunday is ABC news free!

Please get rid of ABC News! People who do not know that most of the media owns stock in the pharmaceuticals are being misled by the media propoganda. And, since when does ABC News know more about the covid vaccine than the actual professionals who made it? These professionals happen to be issuing important warnings that no one will listen to because of misleading media. And your station is helping promote their misinformation. I guess making money is more important than the truth these days.

How much is ABC news paying you to report their covid propoganda? We turn off your radio when we hear their lies-love& appreciate everything else! God bless & thank you.

Phyllis Christensen

24.06.2021

I still love most of the music, but I am getting really tired of Frank Sinatra. Get rid of the Rat Pack and it will be more pleasing. Maybe add ABBA to your selection? Keep up the great work Ray.

Love the music!! Ditto about the ABC news. Also, why do the station's call letters sometimes change in the afternoon? I hear KMJR instead of KMGR. Like the interesting varied topic news stories from around the country.