Stand with Ukraine. Save peace in the world!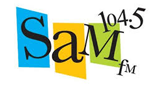 104.5 SAM
Sam 104.5 - KKMX (104.5) is a broadcast station from Tri-City, Oregon, United States, playing Adult Contemporary, Hits, Pop.
104.5 SAM reviews
Everyday they play the same dumb play list. so many good song out there and they cant figure it out. come on guys you are pros! step it up play something good and more of them, not the same bad songs day after day!