Stand with Ukraine. Save peace in the world!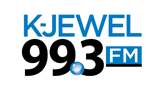 K-Jewel 105.5 FM
KJWL is a commercial radio station located in Fresno, California, broadcasting on 99.3 FM. KJWL aired an adult standards music format for many years in the Fresno market before evolving to a gold based Adult Contemporary format. The station is branded as "K-Jewel".
Show more
TOP songs on K-Jewel 105.5 FM
K-Jewel 105.5 FM reviews
Menny Chavakano

02.03.2022

Love it the music is wonderful some reminders for my pass years thanks...

I enjoy this 80s station. Love listening to Michael Jackson.

Tyson Morecraft

14.03.2021

Finally a 80s station in Fresno. Love the music. Like I always say its happy music. How can I help this station? I would like to to donate and help get a stronger signal.

David Layman Sr.

21.01.2021

I really enjoy your music list that is played daily, however your news is another story. This city is a very conservative and we respect others opinions, however your choice of news bits offend me and others i.e. Today a sorry about Melania Trump and her dress and the remarks that were given about it. Unnecessary and crude. This woman is a class act and the ex First Lady show some respect. As well your stories daily of Covid 19 cases in Fresno, you always add the new count but in the same breath counter with recovery cases and the low mortality rate associated with the new cases, LOW very LOW. If you are going to report the news be fair and balanced. I would hate to have to change to another radio station.

I stumbled onto this station while working in the Hanford/Lemoore area and couldn't quite get it to come in clearly, glad it's Online too. Now I'm hooked.

I come from a younger generation and when I came across this station I immediately was hooked! With short commercials, this station was a No Brainer! Thank you for giving the Valley the best station for us youngsters to listen too.!

I just moved to Hanford and can't quite get this station... SO glad it's available online!! LOVE IT!!!

I stumbled upon this station by accident while visiting Fresno. Takes me back to my high school days. Finally, a station that understands me! I love it!!!

Gabriel Moraga

18.12.2019

I listen to the station several years ago, when It was 99.3 Its programming is excellent and reminds me of the good 80's. Best regards from Valparaíso, Chile

I'm a 80's girl! It reminds me of my Jr High and High School days! Love it!
Information about the radio
We play all the Classic Hits from the 70's & 80's. We are a locally owned radio station right here in Fresno, CA. We love Fresno and that's why we are here to serve you! Mike Michaels is your morning coffee on "Morning Drive". Nobody does Local News better than Veteran News Man, Skip Essick! Listen for Skip every weekday on K-Jewel. Nobody has more local features than K-Jewel, voiced by community leaders including Ashley Swearingin, Andreas Borgeas, Nancy Hollingsworth, Marc Johnson & Elinor Teague. Like our friends at Haron Jaguar/Land Rover. So sit back, turn up K-Jewel, and relax.
Radio contacts
Office Phone: 559-497-5118
Office Fax: 559-497-9760