Stand with Ukraine. Save peace in the world!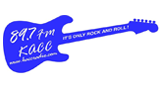 KACC Radio 89.7 FM
KACC Radio 89.7 FM is a broadcast Radio station from Alvin, Texas, United States, providing Rock, Hard Rock, Metal and Classic Rock, College Music.
KACC Radio 89.7 FM reviews
The only station that rocks the gulf coast. I've been listening to this station for over 25 years and still counting.

Love the variety of different music, do yall have a visible playlist we can see title & artist

I don't like all the country and rap--you can find that anywhere and everywhere. I prefer the rock and alternative music, and this station has/had a fantastic selection of that kind of music. Unfortunately, it's hit or miss now but I will still listen to see if any of those great songs show up.

I hope you guys keep on rockin!! It's getting harder and harder to find independent radio stations so I applaud you guys @ ACC! & I love hearing the obscure old stuff yall pull out sometimes, it really brings a smile to my heart, and makes my day when I'm driving thru crazy Hou! So thank you!!!!

Best in the world USA

Please go back to the format that earned you a kajillion followers. I'm out for the rest of the day, and the next few weeks. I check in every month or so to see if you've gone back, but no. .

YES

I've been listening to KACC for 25+ years and I frequently turn new friends on to this station. As I type, they are playing The Smithereens... When was the last time you heard this band played outside of 89.7?? I was very surprised when the format changed to include country and hip hop. I will continue to listen, but from a long time listener - PLEASE go back to the old format of the "Gulf Coast Rocker". Love having the new app as well. If you guys started selling some swag you might get the word out more.

Love the random variety! Thank you!

Goodbye..