Stand with Ukraine. Save peace in the world!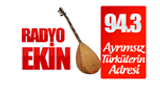 Radyo Ekin
Radyo Ekin yıllardır halk müziği sevenlerin ilk tercihi olmuştur. Bugün Ayrımsız Türküler sloganıyla büyük kitlelere ulaşmaktadır.
Show more
Radyo Ekin reviews
Roberto Carlos Santos

06.10.2022

Ben Brezilya'lıyım! Türkçe öğreniyorum. Türk kültürüne aşığım Brezilya'dan sevgiler

Ağrı göktuğlar özel harekattan selamlar

Berivan Taşdemir

09.11.2020

IYI AKŞAMLAR IZMIR ŞAKRAN 2 NOLU B11 KOĞUŞUNDA VEYSEL KASIRGAYA orhan ölmezden kurban olduğum gelsene PARCASINI ÇALARMIŞSINIZ HERSEY COK GUZEL OLCAK INŞALLAH ONU ÇOK SEVIYORUM

Zuhal Fotoğrafçılık & Organizasyon

28.10.2020

MURAT EKİN .VE FATİH YEŞİL ÇAM ARDIÇ MİLAS TAN SEVGİLER

Dogancan Yıldırım

20.08.2020

merhabalar maltepe 2 nolu c10 koğuşunda cem temur abime ali kınık - kurtlar sofrasını çalarmısınız abimizi çok seviyoruz elbet bir gün daima umut ettikçe özgürsün YILDIRIM'DAN ABİME SEVGİLER

Seher Sanem Kılıç

12.08.2020

İyi aksamlar metris t tpi cezaevi hakan kılıça ali kınık kurtlar sofrasini calarmisiniz teşekkürler seni cok seviyoruz her zaman yanindayiz hersey guzel olucak inşallah elbet bir gün

güzel türkülerr...

a must have although i don t understand turkish language
Information about the radio
Halk müziği tüm örneklerini sergileyen 94.3 frekansından Marmara Bölgesine, uydu ve internet aracılığıyla dünyaya yayın yapan Radyo Ekin; sevgisini, hasretini, sevincini ve üzüntüsünü türkülerle anlatan Anadolu insanın sesi olmuş ve özellikle türkü severlerin vazgeçilmez bir tutkusu haline gelmiş bir radyodur.
Radio contacts
https://www.instagram.com/radyoekin/