Stand with Ukraine. Save peace in the world!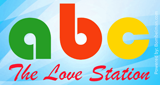 Radio ABC Suriname 101.7 - Powered by Bombelman.com
ABC Suriname since its first release as a radio on December 6, 1975 it instantly occupied a prominent place in the online radio spectrum of Suriname. The founder and director of the radio station, who is Andre Kamperveen, with his innovative programming in the seventies via ABC Suriname led to progression of radio in Suriname.
Radio ABC Suriname 101.7 - Powered by Bombelman.com reviews
Wt rookt asisi GAJADIEN???

Ik hoor niks

Joost A van Krimpen

11.03.2021

heerlijk om naar te luisteren voel me net weer in suriname mi lobby you

Fijne zender! Luisteren graag ernaar! Vooral zo doorgaan!!!! Groetjes uit het mooie Nederland! Theo Schepers uit Lieshout, Holland.

Mi ne yere nex!!!!

goed geluid