Stand with Ukraine. Save peace in the world!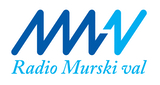 Radio Murski Val
Murska Sobota, 94.6-105.7 MHz FM
Radio Murski val vse od leta 1958 skrbi za to, da so ljudje v pokrajini ob Muri informirani o življenju in dogajanju v Pomurju, v zamejstvu, Sloveniji in po svetu. Obenem prinaša informacije iz Pomurja v domove Prekmurcev in Prlekov po vsem svetu. Smo nekomercialna radijska postaja, ki se posveča tudi tistim temam, ki jih drugje ni zaslediti. Poročamo o politiki, gospodarstvu, zdravstvu, športu, a tudi manjšinski problematiki, svojo oddajo pripravljajo šolarji, mladina, upokojenci… za vsakega se najde nekaj poslušljivega!