Stand with Ukraine. Save peace in the world!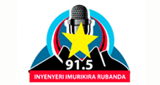 Radio Isango Star
Radio Isango Star 91.5 FM is the Trustworthy source of information & enjoyment in the country of a 1000 hills - RWANDA.
Show more
Radio Isango Star reviews
good evening my name is ronald turabakurikiye i gikondo dusuhurize rwiyemzamirimo gloria turamwemera cyanee

Jean Marie Nibigira

02.06.2023

Good evening, My name is Jean Marie I really love "ISANGO RELAX". I am listening to you from Kiyovu, Kigali.

Abakurikiye match hano muri he?

Erisa from moçambique hano turabemera

☺☺☺

Ndabemera

ndabasuhuje mwampaye indirimbo yitwa be alright ya Dean Lewis

Annselme Rurangwa

23.05.2019

Igitekerezo mfite nuko amafaranga abafana bagombaga gutanga bishyura bazayakusanya ahubwo agahabwa abakinnyi ba Rayon bamaze gutsinda Kirehe kubera ko Kirehe yazamuye igiciro kugirango izabone ayo kwishyura abakinnyi n'Agahimbazamusyi.

Delphine Uwiduhaye

02.03.2019

💚

Jean Pierre Karambizi

13.01.2019

🙏
Information about the radio
From Kigali the commercial capital, our transmission covers Kigali, East, South and large parts of West and North. In a single day, Isango Star's FM 91.5 FM waves reach millions of Rwandans.
No matter what types of prospects you want to reach in Rwanda, Isango Star will help you do it.
Radio contacts