Stand with Ukraine. Save peace in the world!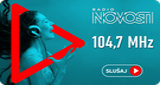 Radio Novosti
Jedna od najstarijih beogradskih radio stanica, koja je u etru već gotovo 30 godina, pruža novu mogućnost svojim slušaocima i posetiocima sajta radionovosti.com - izbor muzike po raspoloženju i afinitetima.
Show more
Radio Novosti reviews
Odlični

Sve pohvale 🤗

Milena Milovanovic

05.06.2020

Dan sa Natalijom je mnogo doprineo rejtingu radia Novosti.

Agnieszka Obuchowska

19.05.2020

Od kada ima Dan sa Nataijom najbolje radio.
Information about the radio
Radio "Novosti" (104,7 MHz) danas emituje popularnu stranu muziku 80-tih sa jasnim ciljem da i dalje egzistira kao urbani, gradski, komercijalni radio koji program emituje na teritoriji Beograda i za gradjane Beograda. Sa raširenom mrežom stanica u celoj zemlji koje emituju vesti "Novosti" može se reći da ima nacionalnu zastupljenost.

Nove mogućnosti na našem sajtu ispuniće zahteve i najizbirljivijih slušalaca.
Radio contacts