Stand with Ukraine. Save peace in the world!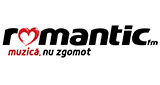 Romantic FM
Muzica Romantic FM acoperă hiturile europene ale anilor '60, '70, '80, '90, '00, dar și pe cele de peste ocean (inclusiv America Latină, bine reprezentată).
Show more
Romantic FM reviews
Adrian Chirila

16.10.2023

out here this radio please Not working ever

alinalberto Ancu

07.09.2023

Mi-a făcut placere să-l ascult, de la 1 septembrie să vi-l băgați in locul ăla întunecat 😁👍poate scoateți ceva bani... de acolo🤪. Când sunt atâtea variante de alegere... Nu o să plângă nimeni după un playlist care și-l poate face oricine 😜. Baftă..!🤪

Nova Implosion

07.09.2023

Altu' care trage oblonu'...calatorie sprancenata!

Un playlist elitist, unic in Romania!

!?

Un post de radio care difuzeaza doar muzica de calitate!

Cel mai bun post de radio din Romania!

Avramescu Larisa

08.06.2023

Un radio ispititor, doar muzica de suflet.

Muzica fara sens sau directie, copiata si difuzata la vrac! Ori iti bubuie capul de la bumti bumti, ori te ia literalmente somnul, gasiti o direcție, e pacat de sunetul bun care se aude (motiv de 2 steluțe si nu una cum am vrut sa dau inițial).

Un playlist deosebit si unic in FM-ul romanesc!
Information about the radio
Receptie Romantic FM satelit: Eutelsat 16A, frecvenţă downlink 11.131 MHz, DVB-S2, symbol rate 16.593 Ksym/sec, FEC 2/3, Roll Off 0,25 , Pilot Off.
Radio contacts
https://www.youtube.com/channel/UCh7T78zAFzZ_Z9OpPliQSsw