Stand with Ukraine. Save peace in the world!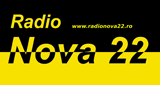 Nova22
Nu dorim notorietate de masă, vrem ascultatori cu o "bogată-curioasă-și-adaptabilă" cultură muzicală!
Show more
Information about the radio
Nova 22 a fost primul post de radio liber din România (decembrie 1989 – decembrie 1992) pe frecvența 92,7 Mhz FM Stereo în București. Ne-am propus să aducem în urechile ascultătorilor noștri o selecție variată de genuri muzicale, de la rock, pop, indie și alternative, până la jazz, blues, reggae și multe altele. Indiferent de preferințele tale muzicale, Radio Nova 22 are ceva special pentru tine. Bucură-te de descoperirea noilor trupe și artiști, de hiturile clasice și de piesele underground, care să-ți satisfacă nevoia de diversitate și de experiențe muzicale unice. Intră pe Radio Nova 22 și lasă-te purtat într-o călătorie sonoră plină de surprize și de energie. Fii parte din comunitatea noastră și bucură-te de muzică de calitate, emisiuni speciale și interacțiune cu alți pasionați de muzică de pe Radio Nova 22. Indiferent de momentul sau de starea ta de spirit, noi suntem aici pentru tine cu selecția noastră muzicală diversă și captivantă. Versiunea online încearcă să păstreze spiritul Nova 22, ce includea un mix complet de cultură muzicală, inițiativă și pionierat, prin piesele și programele promovate! Din 1 iulie 2020 am reluat emisia online prin contribuția unor foști Dj și ascultători.
Radio contacts