Stand with Ukraine. Save peace in the world!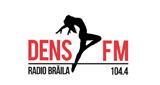 Radio Braila Dens FM
Post radio local, bazat pe informatii locale si nationale, muzica diversa, dedicatii si promovare.
Radio Braila Dens FM reviews
Va ascult cam de o luna, îmi place că difuzați melodii pentru toate gusturile dar aveți același playlist, repetând cam 80% același melodii zilnic. 😏

Un post de radio pentru toti brailenii, bravo !

Ascult oriunde ma aflu, muzica si informatii atent alese( cum spun si ei ) :) .

Anastasia Caragata

11.01.2022

Cel mai tare radio local!

Claudiu Claudiu

07.03.2021

neata tuturor

Dumitrescu emanuel victor

29.11.2020

muzica nu este pe gustul meu , dar gusturile nu se discuta .

de la viena va ascult

Ce mai buna muzica!!! :)

Izolați la domiciliu,ce putem face daca numai avem provizii si bani?va multumesc.

popescu andrei

22.02.2020

merge direct la sufletel!sunteti faini , va recomand tuturor prietenilor mei!