Stand with Ukraine. Save peace in the world!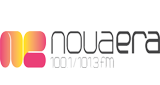 Radio Nova Era
Vila Nova de Gaia, 100.1-101.3 MHz FM
Música sem parar.A Nova Era é a rádio de referência do Porto. Com uma sonoridade urbana, marcadamente Dance/House, a NE é a rádio favorita dos jovens do Norte. Boa música, boa disposição e muito boa onda é o que podes encontrar em 100.1, 101.3 e em radionovaera.pt. LIGA-TE
Show more
Radio Nova Era reviews
Albuquerque Presuntos

01.03.2022

esta estaçam morreu quando o porco do luis montes a comprou

Oliveira Daniel

06.02.2022

cada vez pior quem ouvia e quem ouve...parece a rfm

VANESSA OLIVEIRA

26.01.2022

era a minha radio ha uns anos atras mas estragaram a radio nada de nada mas de nada mesmo tem a ver-lembram do terminal do engate e da pastilha??? agora parece a radio festival kkkkk
Information about the radio
A aposta na música de dança faz com que a Nova Era se tenha destacado das outras emissoras, sendo considerada uma referência a nível nacional.
A Rádio lançou várias coletâneas de música de dança, como o Nova Era DJ, Nova Era Club, Nova Era Flashback e Nova Era Caffé.
Radio contacts
Linha Passatempo: +351 22 375 101 2
https://www.instagram.com/radionovaera/