Stand with Ukraine. Save peace in the world!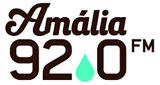 Amalia FM
Amália, uma música é o nosso fado! Lisboa precisava de um rádio também. Uma estação dedicada ao fado, uma expressão musical que transmite uma sensação única, profunda e intensamente em Lisboa. Havia muitos poetas que serviram e ele foi dedicado, e muitos que conseguiram entender tão bem.
Show more
Amalia FM reviews
aaaiiiii

Tempo para recordar e sentir saudade

Reinaldo Arroyo

31.01.2020

Maravilha !!

Rodolfo Fernandes

04.01.2020

I love

Do Nascimento Barroso Américo

07.12.2019

Não consigo contacto online.

5estrelas
Information about the radio
A frequência 92.0 FM é uma porta sempre aberta onde o Fado mora. O ponto de encontro de grandes artistas que diariamente nas 24 horas do dia se cruzam nas ondas desta estação. Aqui convivem todos os géneros, todas as gerações. Aqui a voz dos grandes intérpretes, (que são parte da cultura e memória do nosso povo), tantas e tantas vezes esquecidos soa bem alto sempre que alguém os queira lembrar.
A nova rádio tem raça. É lisboeta, boémia, bairrista, atrevida e namoradeira, faz do Fado a sua alma.
Radio contacts
Fax: +351 21 315 57 69
Departamento Comercial:
Tel: +351 21 010 57 63
[email protected]