Stand with Ukraine. Save peace in the world!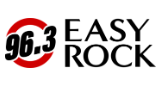 Easy Rock
96.3 Easy Rock - DWRK is a broadcast radio station in Manila, Philippines, providing Soft Rock music and information geared to be a workplace radio station. After 20 years of broadcasting as WRocK brand, DWRK became 96.3 Easy Rock in May, 2009.
Easy Rock reviews
Jacky Pomperada

20.06.2023

I love this station

Good morning DJ Shai.

i listening this radio all the day i love this station

Hello sa aking Mahal na asawa ZETH MONTANO, pwede na mag request sa dj ng song na IKAW by yhen constantino, para sa mahal ko asawa mag iingat ka palagi see you home soon 😘😘😘

Mielrose Ubalde

17.09.2020

Always been a listener for almost 7 years .. loving your mellow random playlist so much .. keep on overwhelming us with such good music ..

Wowie Dela Cruz

16.09.2020

♪♫•*¨*•

Arvin Bringas from Riyadh

Christopher Lopez

07.02.2020

my fave fm sta since the 80's

Ronnie Panaligan

13.09.2019

I like this fm station.

Yesterday's female DJs who interviewed KC Tandigan at around 10.30am Sept 7 Saturday, should be trained by your top management regarding responsible media and communications. Absolutely tasteless bout of sexual overdrives and line of questioning which we found utterly offensive particularly with young children listening to your esteemed radio station. Inappropriate and dull not to mention completely unintelligent. It hurts to see the detoriating morals in our society. Even KC was uneasy answering questions that for a while I thought were being posted by hookers. Surely no DJ with even the slightest bit of self-respect can be so promiscuous on or off the air!