Stand with Ukraine. Save peace in the world!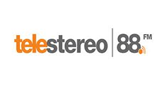 Telestereo
Una estación radial que trasmite online, las 24 horas del día, una programación balanceada, dirigida a un público adulto contemporáneo.
Telestereo reviews
MUSICA INSTANTANEA

familia universal

28.04.2023

Gracias por seguir con el mismo estilo de esa música elegante desde los 80s hasta este 2023.

Daniel Bendezu

08.11.2022

Música muy fácil de escuchar...la antigua FM 88.3, que más se puede decir, una radio que no cambia su pauta, tiempos aquellos de: Pedidos por Fax, Stereo Jazz, Tu Yo y mis discos, Diana Garcia, Mavela Martinez entre otros. Larga vida para Speedy y todo el equipo de Telestereo!!!! Valen un PERU!!!!!!!

Excelente emisora, gracias a Telestereo conocí muchas canciones que nunca las pasaban en otras radios de la época.

Rubenpalacios Palacios

22.07.2022

Hasta que lo encontré!!!!, crecí con esta maravillosa radio TELESTEREO, cuando la frecuencia era 88.3, donde tuve la suerte de escuchar también a Diana García de Palacios y claro esta la voz inconfundible y único de SSPEDY GONZALES.

Demetrio Ramirez

18.07.2022

Es una radio fabulosa, yo tambien soy de aquellos que lo escuchamos en sus inicios fue espectacular en su calidad de sonido y grandiosas músicas y canciones y hasta hoy mantiene todo lo que lo diferencio de las otras radios emisoras. Larga vida Telestereo y a ti estimado Speedy Gonzales...

Vaya, nunca he visto una radio, que domina la máquina del tiempo de las canciones más recordadas y no recoradadas de la historia. Bravo Telestereo.

Antonio Camargo Canales

06.06.2022

Excelente programación. Gratos recuerdos con STEREO JAZZ y Mavela Martínez, y sus grandes presentaciones de Jazz Contemporaneo y Latino. Ojalá se programe esta música espectacular

Ivan Caballero

20.11.2021

creci con telestereo no lo cambiaria siempre donde vaya lo escucho adulto comtemporaneo extraordinario larga vida para ustedes

José Antonio Niño de Guzmán

26.06.2021

Hace tiempo no entraba a escuchar la buena y variada música de esta entrañable emisora limeña. Me sorprendí de escuchar Smoking Gun de Robert Cray Band que antaño solo escuchaba en 99FM, la radio rock de los 80. Felicitaciones por seguir al aire.