Stand with Ukraine. Save peace in the world!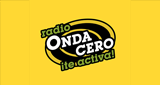 Onda Cero
Emisora que transmite programas con el mejor entretenimiento y diversidad como Azul en Cabina, A Toda Onda, N´Pata2, Bien Activado y más contenidos para un público de todos los gustos
Show more
Onda Cero reviews
Joseph S. C. C. 巴魯克

06.06.2021

Y también Que Hay De Malo

Pon lejania de ryan castro por favor

¡Diana Rodríguez!

14.02.2021

#cnco #Déjá vú♥️☺️

Carla Aniceto Aliaga

14.02.2021

#CNCOwners

alexis aguirre

21.10.2020

hola

mia milagros caldas g

11.10.2020

la cancion de luciana fuster y emilio y nesty

Håňňş Gutiérrez Rodríguez

25.08.2020

Saludos radio onda Cero de Lima Villa María del Triunfo HANNS GUTIERREZ RODRÍGUEZ

edgar reynaldo sucto mamani

05.08.2020

Saludos radio onda cero desde lampa - puno ... Aquí estamos bien activadazos con la radio numero 1 ...

Rosalinda Del Pino

12.07.2020

Musica de Cnco porfaaaaaa

Maria Eduarda Montalban Fiestas

08.07.2020

HOLAA MACLA MI VOTO ES PARA FAVORITO..ONDA CERO TE ACTIVA
Information about the radio
Onda Cero es una estación radial juvenil peruana, que transmite desde la ciudad de Lima para todo el país. Pertenece a Grupo Panamericana de Radios. que tiene como principal misión llevar entretenimiento e información a los jóvenes de todo el país. Desde hace algunos años, Onda Cero transmite ritmos como reggaeton, trap, latin urban, salsa urbana, pop, hip hop, electro. Además, Radio Onda Cero utiliza el beneficio de las redes sociales para llegar a su audiencia con noticias de artistas, música, cine, ya sea del medio local o del extranjero.

Onda Cero nació en setiembre del 2006 como una radio de pop rock en inglés y en español. Debido a que el formato no funciona en el año 2007 cambia de género musical a reggaetón, bachatas. En el año 2008, debido a que la cumbia se pone de moda la radio opta por transmitirla todo el día. En el 2010 cambian nuevamente el formato a uno de radio juvenil con música variada siendo así hasta la actualidad.
Radio contacts
https://www.instagram.com/radioondacero/
https://www.youtube.com/user/OndaCeroTV/featured
Time in Lima: ,