Stand with Ukraine. Save peace in the world!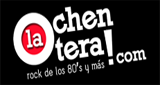 La Ochentera
Transmite las 24 hrs, Rock de los 80's y más. Programas en La Ochentera: Ataque 80, Hisparock, Esta noche es la noche. Artistas en radio "La Ochentera": Madonna, Kiss, Pink Floyd, Bon Jovi, Cyndi Lauper, Phil Collins, Sting, Elton John, The Police, Michael Bolton, Abba, Bruce Springsteen, George Michael, Tina Turner, John Lennon, Michael Jackon, Rod Stewart, JT Taylor, Laura Branigan, IndoChine, Soda Stereo, Heroes del silencio, Bryan Adams, El Tri, Rata Blanca. Radios
TOP songs on La Ochentera
La Ochentera reviews
patricia Rivera Cardona

19.10.2022

EXCELENTE EMISORA UN SALUDO DESDE BOGOTA COLOMBIA

ROLANDO VALENCIA

19.04.2022

Excelente, ¿podría decirme como se llama el tema musical antes del tema like a player de madonna que tocaron hace u a hora? Gracias.

Bravo, me encanta esta radio.

Jose Luis Reyes

11.10.2021

Magnífica Música, gran energía, un Abrazo desde Sinaloa México.

Rafael Espinosa

04.10.2021

Hola señores ochentera, saludos desde Santiago de Chile, es mi radio preferida de todos los días, me acompaña en el trabajo de día y Cúando estoy de noche.

Rosalia Bernabe Aymas

26.09.2021

Arrivederchi Renato

Luis Angel Galindo Caja

03.05.2021

que pasoo!!! ya no funciona esta emisora y era mi favorita... reparenla porfa

Claudio Helard Ancasi

18.04.2021

Excelente ......soy ochentero hasta la muerte....

Soy Cristina. Desde Pasto al sur de Colombia...Siempre le digo a mi hija KATALINA MEJIA de 11 añitos...Que cuando me muera en la sala de velacion coloque LA OCHENTERA...Que es el mejor homenaje que me puede hacer. Son SIMPLEMENTE lo mejor que existe...Que recuerdos tan inolvidables.

Muy buena musica. Recordar es volver a vivir.Felicitaciones.