Stand with Ukraine. Save peace in the world!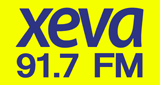 XEVA 91.7 FM
Estación de radio que transmite desde Villahermosa, Tabasco al sureste de México la música mexicana y las últimas noticias.
Show more
On the air XEVA 91.7 FM
| | |
| --- | --- |
| Live | LIVE RADIO;rand:54037 |
| 06:03 | LIVE RADIO;rand:840514 |
| 01:39 | LIVE RADIO;rand:408698 |
XEVA 91.7 FM playlist
XEVA 91.7 FM reviews
actualicen el enlace de la estacion, ese ya no es para poder escychar el beisbol

Concepción Lopez

11.06.2021

Hola buen día solo para informar desde ayer se está repitiendo lo mismo en todas las plataformas digitales sobre los olmecas de Tabasco

Rodrigo Do Santos

10.11.2020

MUCHAS FELICIDADES POR SU PROGRAMACIÓN SALUDOS DESDE TORREÓN COAHUILA

Maricela Solis

24.05.2020

Tio viviras en nuestro corazon y recuerdos. era una alegria oir tu voz cada vez que te hablaba por telefono.

Buenos días, el gobierno estatal está tomando decisiones que no le competen a él, sino debe ser directamente del Presidente de la República y en especial si lo aprueba el Congreso de la Unión, parece que tratará de implementar el toque de queda, como si ya hubiese abastecido a cada familia de cada municipio del estado, cuando realmente no es así, en las comunidades indígenas lo que gana un jornalero es de 100 a 150 pesos diarios, imagínese y si se encierra por el toque de queda de que va a vivir, el gobierno y sus funcionarios porque tienen un sueldo base que si cada familia estuviese ganado con un sueldo base, créanme que nadie tendría que salir, y el que saliera, si le aplicaría la sanción.

Armando Ocampo Garcia

13.04.2020

Saludos desde Cancun, a Maria de los Angeles Garcia Mollinedo, de Teapa, Tabasco!!!

Joel Rodríguez

28.03.2020

no exagere lic, como que pena de muerte a rateros, mejor que le mochen una mano y si vuelve a robar que le mochen la otra mano así, sin manos no va a poder robar.

toni de la rosa

26.11.2019

ME PARESE FAVORABLE SR. JUAN ANTONIO DE LA ROSA ZARRACINO PREGUNTO AL PRESIDENTE EVARISTO CUANDO SE NOS PONDRA EL TRASFORMADOR EN LA PRIMARIA ROLANDO MONTEJO HDEZ, YA QUE SE NOS VA LA LUZ Y LOS CLIMAS SE DESCOMPONEN LOS CABLES SE CALINTAN Y SE REBIENTAN NOS URGE DE BOQUERON 3RA. SECCION

Sergio Amores Rueda

03.10.2019

Exelente saludos Miguel Ángel Hernandez de parte de Sergio Exelente. Juego de beisbol

Ramon Gomez Perez

16.09.2019

saluditos
Information about the radio
XHVA-FM is a radio station on 91.7 FM in Villahermosa, Tabasco, known as XEVA (its former AM callsign).

XEVA-AM 790 received its concession on May 11, 1960. It operated with 5,000 watts day and 200 night until the 1990s, when it ramped up power to 25,000 watts day and 5,000 night.

XEVA was cleared to migrate to FM in June 2010 as XHVA-FM 91.7.
Radio contacts