Stand with Ukraine. Save peace in the world!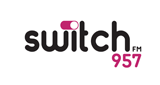 Switch 95.7 FM
Chihuahua City, 95.7 MHz FM
Somos una estación fresca y moderna. Caracterizada por tocar la música más reciente a nivel internacional en inglés y español, así como los grandes éxitos de la década de los 2000's y 2010's. Somos la estación Pop líder en la ciudad de Chihuahua. Switch FM 957. Activando Mentes.
Switch 95.7 FM reviews
A qué horas pasa el noticiero ya no los escucho desde hace tiempo y me encanta

A leguas se ve que son derechangos, a puro denostar el nuevo gobierno digan donde están para llevarles vitacilina

Maritza Quiroz

18.02.2020

me encanta Javo y Gracielo! en las mañanas... deberían considerar iniciar mas temprano! a mi hijo solo alcanza un minirato antes de entrar a la escuela!

Carmen salinas

20.10.2019

Asco su programa de noticias MEGA ACTIVO dan las notas tan tipo ventaneando, puro chiste mal pedo tirandole a AMLO, son unos chayoteros cualquiera

MEGA ACTIVO es una basura, antes daban noticias, hoy se dedican a chismear, a desinformar y dar notas a medias y tirarle al presidente AMLO cuando hay mucho que decir del JAVIER CORRAL. Se escuchan ardidos y con mucho odio, incitan al odio con ideas absurdas como contruir un muro en Chihuahua para separarnos de Mexico, son tan imbeciles que se han vuelto unos chayoteros mediocres del monton. A la basura su noticiero, ya no agradan y mas personas me lo han dicho porque les he preguntado. Pero bueno, pronto desapareceran por raiting. Bye

Me encantan Javo y Gracielo!!

Ayde Gutiérrez

10.07.2019

Me encanta 😍 excelente programa javo.

Ivonne Avena Morales

13.02.2019

Excelente

Almonriz Chihuas

06.02.2019

Súper...