Stand with Ukraine. Save peace in the world!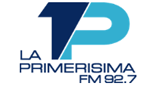 LA Primerisima
San Andrés Tuxtla, 92.7 MHz FM
Estación que durante las 24 horas brinda espacios de variados contenidos para el entretenimiento e información del público, con noticias internacionales, musicales del género top40 y sucesos de regiones mexicanas.
LA Primerisima reviews
Un saludo ala mi papa que se encuentra en el salto de eyipantla el se llama tranquilino peña de part3 de su hija lizbeth que lo quiere mucho y lo extraña yo m3 enci3ntro en tijuana y ponerme la canción de los caminantes cualquier

Saludos desde Iowa Estados Unidos

Maria del carmen Delgado ramon

22.07.2023

Por favor mandar un saludo a Jonny Gael de lerdo de tejada y poner la canción de Lulú

Porfa díganle a las autoridades que ya nos dejen pasar estamos en la carretera la Tinaja Acayucan llevamos un retraso de 5 horas a nuestro destino (Tlaxcala) debido a un retén. Viajan conmigo un Peke discapacitado y un adulto mayor. Solo queremos llegar a casa. Gracias

Jessica Galilea Alanis Moguel

08.05.2023

Porfa de poner una canción de la chona y saludos ala familia Sagmog integrada por diana de Lara Lucia sagrero mejor conocida como la tía Uchi y Daniel sagrero conocido como el chicuies Rodolfo cono conocido arias el Fito

Leonisia Gonzalez

27.01.2023

Saludos para la familia.condado Gonzalez de parte de leonisia Gonzalez

un saludo para los alumnos del equipo 2 samanta, Jimena y Misael Gonzales Sainz que esta felices de regresar a clases

Francisco Pio mozo

12.11.2022

Un saludo a ala famila pio mozo de parte de su familia en playa del carmen

Alex Velázquez

08.11.2022

Hola buenas noches desde texas saludame a toda mifali de atras del antiguo feniz los estraño mucho y a mi bb que ya duerme que le duele muxo su garganta mi bb fiu fiu saludoa

SALUDOS DESDE OAXACA CAPITA AL EQUIPO CONTABLE QUE ESTAMOS EN UNA VELADA LABORAL, TODOS CON LAS PILAS AL 60 YA QUE ES LA SEGUNDA NOCHE QUE NOS DESVELAMOS.
Radio contacts
http://instagram.com/laprimerisima92