Stand with Ukraine. Save peace in the world!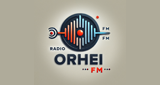 Radio Orhei FM 97.5
Radio online Moldova. "Radio Orhei FM 97.5" este un post de radio local care aderă la tiparul unui post de radio muzical - informativ, conceput în baza Codului Audiovizualului al R. Moldova.
Radio Orhei FM 97.5 reviews
Constantin Constantinov

04.08.2022

👍

Bună ziua stimată redacție!!! Vreau să felicit mai întîi toți Copii Universului cu Ziua Copiilor!!! Și vă rog nespus de mult să mai felicitați o Doamnă Specifică astăzi, dna Raisa Țurcanu. Să- i transmiteți că: Natura-ntreaga azi o felicită,Și flori, si soare, toate-s ca-n povesti,Noi îi dorim o viata fericită Și visurile dragi sa le-mplinească!

dorindui succese, realizari frumoase si ca in viitorul apropiat să-și gaseasca dragostea adevărată.....cu drag din partea verișoarei sale Lora .....

Antonina Verhoturova

01.05.2022

Утром сегодня со двора убежала такса старенькая. Помогите найти стр.Креангэ с2

Psiholog Budescu

30.04.2022

O seara frumoasa , linistita , binecuvintata ... Ava Max - Into Your Arms x Alone

LA MULTI ANI FERICITI PENTRU LILIA BUDESCU SIA UNSTOPPABLE

Nu se iau in consederatie mesajele lasate

Salutare radio Orhei

regizorul filmului șatra este Emil Loteanu

Senea Pototchi

27.07.2020

Sal victor eu doresc sa ascult cintecul юность- дабро si iti doresc o zi faina si succese in continuare ms radio orhei e cel mai tare.