Stand with Ukraine. Save peace in the world!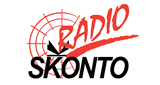 Radio Skonto
Pagriez skaļāk un dziedi līdzi!Radio Skonto 1993. gada vidū sāka veidot Arvīds Mūrnieks un Ivo Baumanis. Šīs radiostacijas mērķis bija būt kā alternatīvai Latvijas Radio 1. programmai. Radio Rīgā sāka raidīt 1993. gada 15. decembra rītā un studija atradās Dailes teātrī.1996. gadā sadarbībā ar ASV koncernu Metromedia Radio Skonto mainīja savu programmu par labu populārai mūzikai, kam pa vidu skanēja īsi ziņu izlaidumi. Balstoties uz starptautisku pieredzi, programmu sāka sastādīt tikai no populārākajām melodijām.
Radio Skonto reviews
Юлия Плодистая

20.01.2022

Спасибо, дорогое Radio Skonto, всегда поднимаете настроение!

Sergey Yakovlev

30.07.2019

За 10 лет плэйлист не поменялся, стабильное радио! :D

Super xxxx

best 5 star

Paweł Oleszczuk

12.04.2018

Czad .