Stand with Ukraine. Save peace in the world!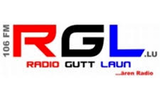 Radio Gutt Laun
Esch-sur-Alzette, 106 MHz FM
De Radio Gutt Laun, kuerz RGL, ass e lokale Radiossender zu Lëtzebuerg, deen zanter 1984 (deemools a bis 1992 nach als "Radio Stereo ERE 2000") vun Esch-Uelzecht op der UKW-Frequenz 106,00 MHz ausgestraalt gouf (Antenn Gaalgebierg). E kann och am Escher Kabel op 103.5, iwwer d'Tëlee vun der Post, an als Livestream iwwer den Internet empfaange ginn.
Show more
Information about the radio
Gesent gëtt op UKW an iwwer Kabel all Dag, ausser freides vun 19 bis samschdes 7 Auer, a sonndes vun 19 bis méindes 7 Auer (do ass de Radio Classique vu Biergem ze héieren). Iwwer d'Tëlee vun der Post an den Internet leeft de Programm awer och déi Zäit weider.

144 Stonne Programm pro Woch kommen aus dem Schëfflenger Studio.
Radio contacts