Stand with Ukraine. Save peace in the world!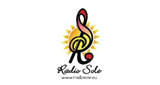 Radio SOLE Vittoria
RADIO SOLE VITTORIA, l'Emittente Radiofonica Siciliana che illumina le tue giornate! Musica, Informazione, Curiosità, Comicità e tanto altro in Tempo Reale in FM e su Internet.
Show more
TOP songs on Radio SOLE Vittoria
Radio SOLE Vittoria reviews
Information about the radio
Attualmente RadioSOLE assicura la copertura e il servizio in buona parte della Sicilia orientale, la logica dello sviluppo, che traduce in termini di superficie l'attinenza sociale, culturale, economica e politica, induce a suggerire l'estensione della totale copertura della Sicilia orientale. Inoltre, è allo studio la totale conversione al digitale. In questo contesto è chiaro che l'apporto informatico sarà determinante nei progetti di sviluppo sotto il profilo giornalistico, tecnico e musicale.

Per quanto riguarda la qualità dei programmi, RadioSOLE, intende mantenere e migliorare il già elevato standard di produzione: "talk" ma anche "show". Ovviamente, il palinsesto è inevitabilmente condizionato dall'impostazione giornalistica: anche le trasmissioni cosiddette leggere, a prevalente componente musicale, non tralasceranno notizie, dati, curiosità inerenti al mondo dello spettacolo. Sono previsti, sempre in subordine alle decisioni della redazione, collegamenti con gli avvenimenti anche d'interesse nazionale, nonché trasmissioni in esterna quali spettacoli e manifestazioni.

RadioSOLE intende garantire una informazione equidistante, immediata, obbiettiva soprattutto in ambito locale, prestando massima attenzione a quanto concerne l'attualità locale e i problemi sociali, ampio spazio per i giovani e i loro problemi e le problematiche dell'educazione e della didattica. Particolare riguardo alla cronaca, all'attività politica e sindacale, allo sport, all'economia.

La riqualificazione del messaggio radiofonico sarà condizionata dalla qualità delle notizie trasmesse, in tutti i formati. RadioSOLE intende proseguire con attenzione l'obiettivo di informare, producendo essa stessa notizie e informazioni grazie alle metodologie redazionali con l'aiuto di tanti giovani motivati e capaci.
Radio contacts