Stand with Ukraine. Save peace in the world!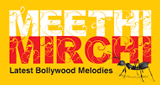 Meethi Mirchi Radio
Radio Mirchi's free internet radio station plays a selection of modern Bollywood Melodies, that will ease your work day.
Meethi Mirchi Radio reviews
Top

Eu amo Mumbai sou do brazil 🇧🇷🇦🇶🌏🥰

Love you

Love you!

Abbas's Physiotherapy Clinic

26.02.2021

Simply the best wah!!

Love you

nyfses

Victor Saveliev

21.09.2020

Thanks for emotions )

Jonathan Townsend

26.08.2020

Meethi Mirchi, the best Indian radio programme, if not in the world - I can't stop listening. Please stop, at least (very very very reluctantly) for perhaps four hours, otherwise I will never get any sleep!!! I am in Salta, Argentina. Everybody in this country is waiting for China to conquer them, but that won't happen as long as Meethi Mirchi can reach us here!

ABHIJIT CHATTERJI

25.07.2020

instead..lover...life...nature.. .music...as..back...2..nature... rational..force..