Stand with Ukraine. Save peace in the world!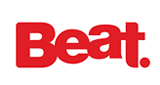 Beat 102-103 FM
Beat 102-103 Your Music Now : upbeat new and recent music with broad appeal to young adults combined with news and talk programming for South East Ireland.... The "go to" multi-platform radio station for entertaining & informing young adults in the South East which is irresistible to advertisers.
Beat 102-103 FM reviews
alex antonio ya ñez morales

10.03.2022

BEAT 1🌎2 1🌍3 Best Regards Alex Elizabeth Belén Maite from Chile Southamerica.

44CatsAndMyLittlePonyYes TheWackyWorldOfTexAveryNo!

15.10.2020

Put On Outnumbered by Dermot Kennedy Right Now

Claudia Patiino

21.09.2020

Thanks for playing Dynamite by BTS

Good music but way too many adds.

Marek Kirschner

03.05.2017

Super taneční hudba.
Radio contacts
Fax: 051 849 103
Studio: 1890 715 102