Stand with Ukraine. Save peace in the world!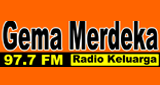 Radio Gema Merdeka Bali
Radio Gema Merdeka adalah salah satu Radio tertua di Bali yang berdiri pada tanggal 05 April 1981. Coverage area kami meliputi Seluruh Pulau Bali (Kecuali Kabupaten Buleleng), meliputi : Denpasar, Kuta, Sanur, Uluwatu, Nusa Dua, Sangeh, Tabanan, Gianyar, Klungkung, Karangasem, Negara, Banyuwangi dan sebagian pulau Lombok. Sesuai hasil Riset S R I dari tahun 1991 sampai dengan tahun 2001 dan juga sesuai hasil Riset AC NIELSON dari tahun 2002 sampai dengan tahun 2010, Radio Gema Merdeka untuk seterusnya tetap bertahan pada urutan pertama dalam perolehan pendengar terbanyak dari 6 kuisioner yang di tawarkan.
Radio Gema Merdeka Bali reviews
I Ketut Mangku

04.07.2023

Suaranya cukup jernih cuman kadang" suka menghilang terutama klo malam diatas pukul 22.00

Sukses Selalu Radio Gema Merdeka ; Salam Hangat dari Luwuk Sulawesi Tengah

Hai kak.. dr tahun 2006 saya suka dengerin radio ini .

Bimantara Bimantara

19.05.2022

sukses selalu,tetap jaya, lanjut part 2

radio dari masa kecil blom ada istilah tv berwarna cuma dengar sandiwara radio ia di gema merdeka bali tetap jaya gihh

Radio bagus siarannya OK saya sering dngar lewat streaming dari kota Solo Jawa Tengah pada waktu saya main ke Bali radio ini selalu menemani perjalanan keliling Bali

Kiandut Pro Singaraja-Bali

20.11.2021

suksma supportnya nggih..dumogi lagu ulian inguh preside ngibur idedane sareng sami..rahayu..rahajeng galungan & kuningan..

Made Darmawan Yasa SMAS Candimas Pancasari

18.06.2021

Dari Panji - Buleleng, bagus dan jernih kedengarannya. Lanjutkan!!!

top

Muhammad Al-farez

28.02.2021

Acaranya bagus bagus,penyiarnya juga ramah ramah
Radio contacts
https://www.facebook.com/profile.php?id=100014886693423