Stand with Ukraine. Save peace in the world!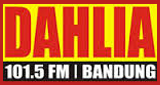 Radio Dahlia
Radio Dhalia is a radio broadcaster located in Bandung, Indonesia, on air since it was established in 1970. It aims to be informative, educational and provide entertainment to its listeners.
Radio Dahlia reviews
Cicalengka hadir..geboy...mank

Laguna garenahen

Hafidz Ayyashy

12.03.2021

Lebih dari 20 tahun ga denger Dahlia FM, Alhamdulillah sekarang bisa denger lagi

Lagunya enak2, salam dari Cimahi ka pipir saeutik wkwk.

Maulana Khobir

18.12.2020

Palabuhanratu Sukabumi, Hadir...

Camis HADIR Kacida.......

Nadi Putra Pratama

05.09.2020

hai neng barby putri nadi pada suka hadir diacara kopi dangdut dahlia prung ah gogogoyang nadi padasuka menggoyang anak karmila senior yg berkumpul di wa nya pokonya buat wardi dahlia di mnapin berada

majalengka hadir......

Mencrang euy

mantuul.......dari tasikmlaya hadir.......
Radio contacts
Fax: (022) 7314097