Stand with Ukraine. Save peace in the world!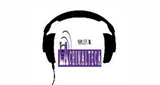 La Chimalteca
Santiago Chimaltenango, 101.5 MHz FM
Fundada en Mayo de 1991, ofrece una programacion totalmente variada, durante las 24 horas, transmite diversos espacios que se encargan de entretener e informar al público, con los éxitos de los años 60's, 70's, 80's y 90's.
La Chimalteca reviews
Excelente

Excelente 👌 programación numero de WhatsApp disculpe.

Claudia Tatuaca

27.06.2020

Excelente programación.

Hola desde Polonia, buena música, buena radio.

Thomas Dibenedetto

20.05.2020

Saludos desde Boston soy Lizandro

juan david chonay pantzay

15.04.2020

CUENTA CON MÚSICA DE AMBIENTE

carlos manuel guanta tol

21.10.2017

La mejor radio la Chimalteca