Stand with Ukraine. Save peace in the world!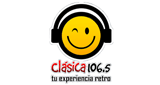 Clasica
Guatemala City, 106.5 MHz FM
Clasica 106.5 is a broadcast Radio station from Ciudad de Guatemala, playing Classic Hits music.
Show more
Clasica reviews
Hilder Portales

28.08.2022

amigos clasinomanos que gusto saludarlos, y al miso tiepo felicitarlos por tan buena programacion especialmente los Sabados por la tarde con DJ Pato, me receurda la "Music Power" cuando en los anos 80's estava en la Calzada San Juan, un saludo por favor para Deborah Lourdes De Leon de parte de Guallito desde la Ciudad de Chicago, gracias amigos que Diosito me los bendiga. Atentamente: Gilder Portales

Se expresa muy mal la señora que está hoy en la mañana . Molesta escucharla

Emilio Vasquez

22.11.2021

Que malisimo ese turno de la manana, mucho bla bla y nada de musica.

Mucho gusto amigos clasinómanos, con una sugerencia o recomendación: hace falta un locutor ameno para las noches, en vista de que ahora hay muchas empresas que tienen jornadas nocturnas y no hay una radio de ésta naturaleza que nos alegre la jornada de trabajo nocturna. Atto. Joel Mezquíta desde Cobán,A.V., Guatemala.

Felicidades mis amigos GUSTAVO Y PATO DJ SALUDOS A MI FAMILIA FUNES DESDÉ BRADENTTON

Karol Montenegro

16.08.2021

excelente programación

buenisima programacion en linea Abel Caderon desde quetzaltenango

Alfredo Garzaro Monge

04.05.2021

es increible el alto nivel de contaminación al español Guatemlteco que los locutores de esta estación descargan en la población, con fraces que ni dicen corectamente en el idioma original

Mariangeles I.G.

08.03.2021

Aaaaa

Vilma Hernandez

01.02.2021

palito ortega
Information about the radio
Clasica 106.5 FM is a Guatemala online radio station. This radio plays oldies, classic, hits song. It is a very famous online radio station in Guatemala.
Radio contacts