Stand with Ukraine. Save peace in the world!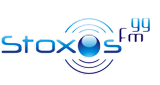 Stoxos FM
Ο Στόχος FM αποτελεί μια δυναμική, «ζωντανή» ραδιοφωνική συχνότητα, η οποία εστιάζει περισσότερο στην ψυχαγωγία, αλλά και στην ενημέρωση. Το πρόγραμμα αποτελείται από μουσικές ζώνες, που καλύπτουν όλο το φάσμα της Ελληνικής κυρίως μουσικής από (έντεχνο, ποπ και ροκ μέχρι σύγχρονο λαϊκό και λαϊκό) και με επιλεγμένα κομμάτια από τη ξένη δισκογραφία.
Stoxos FM reviews
Nikolaos Papadopoulos

08.07.2022

Σουζάνα είσαι αστέρι,

ΚΑΛΟ ΒΡΑΔΥ ΑΠΟ ΖΑΧΑΡΩ ΣΕ ΑΚΟΥΝΕ ΟΙ ΦΙΛΟΙ ΣΟΥ ΠΕΡΑΣΜΑ

Aleksandar Antonijević

14.05.2021

Ωραίο ραδιόφωνο. Τον ακούω στη δουλειά. Χαιρετίσματα από τη Σερβία

Desislava Angelova

25.03.2021

είσαι διαφορετικός

Panagiotis Dimitriadis

20.01.2021

φιλια στο βορειότερο χωριό της Ελλαδος,Ορμενιο.

γειά σου Θάσος απο Κύπρο

Mpampis Kontogiannidis

04.02.2020

Καλησπέρα!!!Ακούω Stoxo 20 χρόνια!!!

Predescu Darie

18.10.2019

Luv U, STOXOS FM!!! Miss Thassos very much!!!

Τελειο

Szuper!