Stand with Ukraine. Save peace in the world!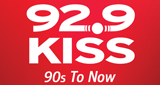 Kiss FM
Kiss 929 είναι ένας ραδιοφωνικός σταθμός που μεταδίδεται από την Αθήνα, Ελλάδα παρέχοντας διεθνή μουσική, ενημέρωσης και ψυχαγωγίας.
Kiss FM reviews
I Love Cyprus. 🫡❤️💯 🎶

αφιερονο ολλα τα επομενα κοματια στην ποιο γλικια γυνεκα της ζωηςμου μαρινα αργυροπουλου

hello hello from London

Pozz from Srbije!

Kostas Parasxos

04.07.2020

Poli Kalos Stathmos !!

Αννα Μαυροειδή

26.04.2020

Εξαιρετικές επιλογές!!!

Matina Daskalou

11.04.2020

ωραια κομματια!μπραβο!!!

Γιάννης Φασιδάκης

05.02.2020

Τελειος

Μπραβο σας.Μονο εσας ακουμε..Τελεια συνοχη στα κομματια...

Very nice greek music . . . .
Radio contacts
https://www.instagram.com/kissfm929/