Stand with Ukraine. Save peace in the world!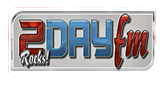 2day FM
2dayFM is a young dynamic station that caters to a young adult audience in Fiji and across the globe. We strive to educate, inspire and entertain our audience through creatively produced shows and entertaining talk segments coupled with the best of today's hit music.
Show more
2day FM reviews
2DAY FM VIBING IN SUNSHINE COAST QUEENSLAND AUSTRALIA

Elizabeth Vesikula

09.11.2021

🇬🇧🇬🇧🙌🏽🙌

2day fm vibing in Cattrick garrison infantry camp

wananavu 2day fm rocks

wanna navu 2day fm love this African song

Frances Nawalu

15.07.2020

Today fm you rock

2day fm is rock

nathan fostino

30.01.2020

Hi can u pls tell me the name of a reggae song you played like 15 mins ago with lyrics of she's my lady she drives me crazy

Jessy Mckenzie

28.01.2020

What's the name of the Indian song you played a while ago probably the only Indian song you've played today. It's some like this come ka joro. I just want to know who sang it and spelling of that song. I really like that song. Thank you

Favourite radio station of all time. Love listening to guys all the way from England!
Information about the radio
The music we play is chosen from the Top 100 Hits beginning from the year 2000 to the present and we play almost all genres of music from Hip Hop, Reggae, Pop, Rock, R&B and EDM. We are the ONLY contemporary English station that supports young and upcoming local artists with our Homegrown category, giving local musicians an avenue to showcase their talents and supporting our local music scene.
We also keep our audience informed with hourly News Headlines and 3 main bulletins at 7am, 1pm and 5pm from Monday to Friday and 1pm and 5pm on the weekends. We give you breaking News stories the biggest stories in Sport and from around the World. We also give constant updates during Natural Disaster's and ensure that our audience is well informed during these times.
We are also the station that has the ONLY simulcast music show in Fiji called "The 2dayFM Daily Hit List" (Weekly from 5:30pm – 6pm) which is a daily countdown of the Hottest 5 songs of the day. Simulcast means that the show is broadcast on the Radio and Television (via FBCTV) simultaneously.
We are heard nationwide as well as throughout the Globe via livestreaming on this page. With our improved signal we are able to reach Suva in its entirety, Nausori, the Western Division covering Sigatoka, Nadi, Lautoka, Ba Tavua, Rakiraki and in the North and to the Yasawa's, Taveuni, Rabi and Rotuma. We also have a very active Facebook and Twitter page filled with interesting posts and updates so be sure to "like" and follow us.
So whether you are at work, school, just hanging out at home or if youre overseas and want to get a taste of home then listen to the best of today's hit music tune in to 2dayFM on any of our frequencies and stay up to date with all the latest stories from Fiji.
Stay tuned to 2dayFM for more upcoming events throughout the year.
Radio contacts
Time in Suva: ,