Stand with Ukraine. Save peace in the world!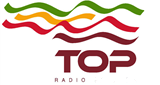 Top Radio
La mejor música en español desde Madrid España, a través del 97.2 FM. Aquí escucharás lo mejor de la Salsa, el Merengue, la Bachata, el Vallenato y lo más actual del Pop Latino.
Show more
Top Radio reviews
Dejen de repetirse. Solo hay canciones muy repetitivas y una voz que carga diciendo top radio diferente y más música y así. Poned otras cortinas mejor y más canciones. Vale!

Ya no existe en FM. Es un PC sin locutores. Penoso el final de una buena emisora... cerrad ya

muy buena

Mateo Alejandro Mossini

01.04.2020

Hola si son tan amables pido a ustedes que digan a Shakira que dejó a Mateo Alejandro Mossini con el corazón roto.

Excelente combinación de estilos y temas en español. Una radio musical entre mis favoritas.

Ramon Garea Trapero

29.07.2019

Hace más de año y medio que dejé de escuchar esta emisora que me encantaba por sus boleros, rancheras y baladas. El Sr. Oscar Montero le ha dado por meternos todo tipo de folklore, comenta algo encima de la canción sin dejar oirla, nos explica los sucesos, el tiempo, el tráfico,anuncios, no es la emisora que varios amigos conocimos, me voy a "radiolé"

Francisco Marín-Lázaro Angulo

07.10.2018

Es una pena el daño que están haciendo a su emisora con la nueva orientación musical. La emisión de salsas, merengues y cumbias que con tanta insistencia lanzan a las ondas, son un atentado contra lo que era su emisión musical y una desconsideración hacia los oyentes que desde el principio de su salida a las ondas, les sintonizábamos de forma permanente. ¡Es una pena¡.
Information about the radio
SOMOS una misora en Madrid, con la música más romántica, en castellano, de mayor éxito, incluyendo baladas, boleros y rancheras, sin olvidar los grandes clásicos.

Música Inolvidable, de ahora y de siempre, con sentimiento, nostálgica, sensible y pasional… que nos transporta a un mundo lleno de buenas sensaciones.

Una fórmula pensada para el oyente adulto contemporáneo que gusta de las grandes voces y de los grandes compositores de México y España.

Top Radio 97.2 FM Inolvidable

Bienvenidos a nuestro tesoro musical.
Radio contacts