Stand with Ukraine. Save peace in the world!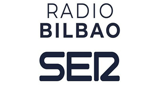 Radio Bilbao
Emisora radiofónica perteneciente a la Cadena SER, que llega cada día a los oyentes como desde hace muchos años, ahora también online para el público internacional con las noticias, una gama de música de alta calidad, notas deportivas, tertulia y shows de entretenimiento en vivo.
Show more
Radio Bilbao reviews
Humberto Fajardo

13.07.2022

C O M U N I S T A S. Venganse a mi pais para vivir de verdad el comunismo

Luis Ángel Jiménez Bautista

31.03.2020

La ventana del claustrofóbico
Information about the radio
Estimados internautas:Desde estas líneas quiero invitaros a conocer Radio Bilbao, la emisora de Bilbao, desde que Bilbao tiene radio. Una emisora que ha evolucionado, como su ciudad, desde la guerra civil, la difícil post-guerra, la revolución industrial y su declive hasta el Bilbao del siglo XXI, el de la sociedad de la información y del ocio. Desde el año 1933 vivimos día a día la historia de Bilbao y del País Vasco.
Radio contacts
Fax: 94 487 21 18
https://www.youtube.com/user/cadenaser