Stand with Ukraine. Save peace in the world!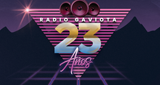 Radio Gaviota
Estación que transmite sus programas durante las 24 horas del día, ofreciendo una variedad de contenidos para informar, entretener y acompañar a los oyentes con las noticias y un repertorio de música de los mejores éxitos.
Radio Gaviota reviews
Kristel Alvarez

16.06.2023

Mis mas grandes felicitaciones a su gran equipo de gaviota Don Carlos, todos los días los escucho desde las 5 am por mi radio, ya que no puedo por los otros medios por mi discapacidad visual. Ing.Edmundo

Edmundo Sarmiento Sigüenza

10.05.2023

excelentes noticias; felicitaciones los escucho por mi radio todos los días ya que soy una persona no vidente

Saludos estimado coterraneo arenillense Carlos Espinoza, felicito la gestión informativa que hace efectiva cada mañana, por su prestigiosa Radio Gaviota.

Jaime P. Mendoza

24.03.2023

necesito contacto para pactar cuña radial

Aldo Valarezo Sánchez

22.06.2022

Saludos a Carlos Espinoza, Luis y Ariel Suáres. Desde Pasaje. Hasta el momento no llega Diario Opinión, y además estuve por el mercado nuevo, aparentemente normal, pero se nota que cada vez hay menos productos. El tomate a 1 dólar la libra. También me comentaron que habían problemas en el redondel frente al Hospital Civil San Vicente de Paúl de Pasaje.

pueden poner li nas x industri baby por favor

Darwin Fernandez

12.01.2022

Buenos dias Radio Gaviota los escucho desde el sector San Jose de Minas, Sitio Huizho, canton Pasaje.

Kiara Isabel Kun Torres

25.11.2021

Pueden poner

Sandra Batioja

18.08.2021

Buenos días a la radio más auténtica y popular del Ecuador; yo pediría que sorteen el viaje a galápagos; gracias por mantenernos al día con lo que acontece en nuestra provincia y el mundo.

Buenos días radio gaviota saludos desde la Ciudadela Abdón Calderón, yo pediría que regalen un lapto para que mi niña pueda continuar con su estudios de la universidad por el motivo de que soy viuda y para variar desempleada que Dios los bendiga.