Stand with Ukraine. Save peace in the world!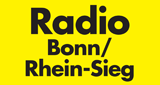 Radio Bonn
Für das Beste NRW's - Region Bonn/ Rhein-Sieg. Wetter, Verkehr, News und die beste Musik.
Show more
Related radio stations
Show more
Information about the radio
Radio Bonn/Rhein-Sieg sendet seit dem 2. Januar 2017 von Montag bis Freitag ein vierzehnstündiges Lokalprogramm, bestehend aus den Sendungen "Am Morgen" von 6 bis 10 Uhr, "Bei der Arbeit" von 10 bis 15 Uhr, sowie der Sendung "Ab in den Feierabend" von 15 bis 20 Uhr. Samstag wird von 8 bis 13 Uhr und sonntags von 9 bis 12 Uhr lokales Programm gesendet. Zudem sendet Radio Bonn/Rhein-Sieg zusätzlich an Karneval, bei Rhein in Flammen und beim Bonn-Marathon eine Sondersendung.

Außerhalb der eigenen Sendezeit werden Sendungen vom Mantelprogrammanbieter Radio NRW übernommen. Die Weltnachrichten zur vollen Stunde werden jedoch auch während der eigenen, lokalen Sendungen von Radio NRW bezogen.

Von 5:30 bis einschließlich 19:30 Uhr (samstags um 7:30 Uhr und sonntags um 9:30 Uhr beginnend, dann durchgehend bis 17:30 Uhr) sendet das Lokalradio zu jeder halben Stunde Lokalnachrichten aus dem eigenen Funkhaus. Die 5:30-Uhr-Nachrichtensendung sowie im späteren Verlauf diejenigen von 9:30 bis 15:30 Uhr haben wochentags einen Umfang von circa zwei bis drei Minuten und beinhalten neben den Schlagzeilen aus aller Welt "das Wichtigste aus dem Radio-Bonn/Rhein-Sieg-Land in 60 Sekunden" und lokale Verkehrsinformationen. Die restlichen Nachrichtensendungen zur halben Stunde liefern ausführliche Lokalmeldungen von ungefähr jeweils drei Minuten Länge. Im Anschluss daran gibt es den lokalen Wetter- und Verkehrsservice.
Radio contacts
Fax: 0228/40071-36
Time in Bonn: ,