Stand with Ukraine. Save peace in the world!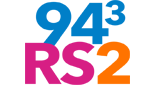 94.3 RS2
94.3 rs2 bringt Berlin und der Welt die Pop Hits der 80er und 90er und frischen Wind aus den aktuellen Charts. Der Supermix wird abgerundet durch unterhaltende Shows, Aktionen, Gewinnspiele und allen wichtigen Infos für den Tag.
Show more
Information about the radio
94,3 rs2 ist, laut der mabb, ein privater Zwei-Länder-Hörfunksender für Berlin und Brandenburg und bietet ein Vollprogramm mit Popmusiktiteln von den 1980er Jahren bis heute.
Das Programm von 94,3 rs2 besteht aus Nachrichten, Servicemeldungen, Unterhaltung, Beiträgen und einer Mischung aus aktuellen Liedern und Titeln der 1980er, 1990er und 2000er. Der Sender wird auf den Frequenzen in vier Bereiche, für regionale Nachrichten, Beiträge, Veranstaltungstipps und Servicemeldungen aufgeteilt. Der aktuelle Werbespruch von 94,3 rs2 lautet "Mein Supermix".
Radio contacts
https://www.youtube.com/user/943rs2
https://www.instagram.com/94.3rs2/