Stand with Ukraine. Save peace in the world!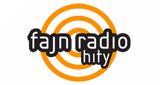 Fajn Radio Hity
Prague, 89.3-104.7 MHz FM
Fajn Radio je vyhledávaným hudebním fenoménem, protože nalézt kvalitní rádio pro mladé, které hraje ty nejlepší a nejnovější hity, není leckdy jednoduchou záležitostí. Zejména mladí chápou novou živou hudbu jako podstatnou část života, a proto vyhledávají jen ty nejlepší zdroje, jelikož se nejeden playlist písniček v mobilu brzy oposlouchá, sáhnou k osvědčené kvalitě v podobě celorepublikového či lokálního rádia.
Fajn Radio Hity reviews
Posloucháme rádio v kanceláři již více než měsíc. Stejně jako u Evropy 2 začínáme se vážně bavit o tom, že stanici vyměníme i přes to, že moderátoři jsou sympatičtí. Důvodem je jejich neschopnost se domluvit na tom co už dnes hráli a co ještě ne a tak za směnu slyšíme některé songy 3x den. Den co den co den a jen velmi, velmi ojediněle se do programu mezi 6 až 15h dostane něco nového. Zkrátka když si rádio zapnete na hoďku denně tak dobrý, pokud jej máte zapnuté kvůli hudbě, pak Vás brzy začne nudit.
Radio contacts
https://www.instagram.com/fajnradio/