Stand with Ukraine. Save peace in the world!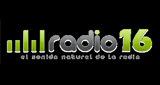 Radio 16
Radio 16 1590 is a broadcast Radio station from Grecia, Costa Rica, providing number one area in the fields of entertainment, information, social service, promotion of products and services by a professional technician team.
Radio 16 reviews
Buenas tardes ,

istorya kriticheskaya

16.05.2020

Buenas noches. Estaba escuchando el programa al que invitasteis al Dr. David Díaz. La transmisión se interrumpió unas cuantas veces hasta que se interrumpió del todo a las 7 y 2 minutos. Muy buen programa, os felicito. Me gustaría saber si luego se podrá acceder al audio completo. Sería una estupenda idea de parte de Radio 16. ¡Muchas gracias nuevamente! Antonio.