Stand with Ukraine. Save peace in the world!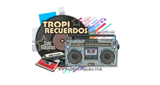 Tropirecuerdos
Tropirecuerdos es tu canal de entretenimiento. Música tropical colombiana. Temas clásicos de los 60, 70, 80 y 90s. Vallenato, salsa, merenguepara todos los gustos
Tropirecuerdos reviews
Hector Rubio Palacios

25.02.2022

muy tropical, excelente me encanta q belleza de musica, lo transporta a uno

Alirio Delgado

30.10.2021

Diariamente escucho Tropirecuerdos en West Palm Beach, es sensacional hace que el recuerdo de nuestro país permanezca en el tiempo. lo único malo es que a veces repiten muchos temas. Felicitaciones por su programación.

En ibague sólo se escucha tropirecuerdos. Excelente programación.

Excelente programación los felicito muy buena música les deseo muchos éxitos y que sigan deleitándonos con estos temas que nos traen muchos recuerdos no dejemos morir está música tan linda felicidades ...todos los días los escucho desde guaduas cundinamarca

Excelente emisora, la mejor música tropical del recuerdo. Lejos la mejor emisora de Colombia en este género.