Stand with Ukraine. Save peace in the world!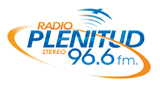 Radio Plenitud Stereo
Barranquilla, 96.6 MHz FM
Plenitud Stereo 96.6 f.m. es una emisora de carácter comunitario, que tiene como fin incentivar los valores, los talentos
Radio Plenitud Stereo reviews
Jeremy Percybrooks

23.06.2022

Buenas tardes, cómo se llama el pastor cómo haría para contactarlo

Buenas trdes amigo pido una oración de sanación para mi suegra Zoila que está enferma del corazón declaró sanidad en la vida de mi suegra que Dios la bendecira mucho

Puerta de empleo por yuleidis cardenas y liberacion y por mi hija

Yarleis Rambao Padilla

25.08.2020

muy buena emisora me gusta mucho pido oracion por la familia villazon rambao barranquilla mi dios es bueno gracias dios solo gracias

Samuel David Piñeres Cuentas

22.07.2020

DIOS PUSO YA SUS MANO EN MI ESPOSO QUE ESTA EN UCI Y LO VA A LEVANTAR A VER LA GLORIA DE DIOS , HAY PODER EN DIOS PARA SER SANO DECLARO SANIDAD EN LA VIDA DE MI ESPOSO JAVIER PIÑERES

Un saludo para mis amigos de radio plenitud Dios los bendiga a todos saludos desde Guatemala ahora mas que nunca tienen qur estar con nosotros en estos días difíciles con la cuestión del virus salujdos a todos bendiciones

lisette samiray gastelbondo cantillo

13.04.2020

Buenas tardes, yo también soy abogada, en estos días me he dado cuenta de eso, sin embargo he pasado cartas quejas a las difentes superintendencia dependiendo la entidad y han resuelto favorable en poco tiempo.

Que bendicion es poder escucharte a través de esta emisora ,,,saludos desde bogota Colombia

Andrea V. De Oro

03.03.2020

Yo soy plenitud stero 🙌

Beatriz Freytes

28.02.2020

buenos dias, bendiciones,yo siento con respecto al tema de la concepcion asistida, es una ayuda que Dios nos da a las mujeres que queremos formar un hogar para Cristo, la ciencia la dio Dios al hombre para usarla para bien, los medicos son utilizados por Dios para esto , para esto y mucho mas en su area respectiva; pero el enemigo daño el diseño de las bendiciones de Dios y por ello quierenrealizarlo solas, cosa que no debe ser.