Stand with Ukraine. Save peace in the world!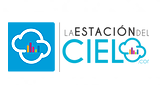 La Estacion Del Cielo
La Estación del Cielo cuenta con una programación diversa, reggae, hip hop, merengue, reggaetton, salsa, tropi-pop, electro-pop, anglo, rock, pop, alabanza, adoración, mensajes de reflexión. 24 horas programación, todo a un solo click de tus oídos, La Estación del Cielo.
La Estacion Del Cielo reviews