Stand with Ukraine. Save peace in the world!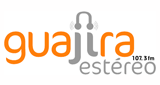 Radio Guajira Estéreo
Radio Guajira Estéreo 107.3 FM is a broadcast radio station from Riohacha, La Guajira, Colombia, providing News, Merengue, Vallenato, and Salsa music
Radio Guajira Estéreo reviews
Jhon Murillo Solorza

24.01.2023

dios bendiga a la familia guajira estéreo a pepe palacios y su familia a kelia palacios por llevar la información a los guajiros y los que estamos fuera de la guajira mil bendiciones

Me encanta el sonido del vallenato , soy desde Canada puro gringo y amo su musica !! Muy bonita , Saludos desde Canada

Buenos días, desde Corozal fiel oyente de Guajira stereo107.3, ando visitando a mi hija y no me pierdo mi emisora favorita , TanyPinilla

Eddy Raiz Diaz Yera

25.08.2022

Siempre en su sintonía la 107.3 guajira estéreo aquí en mi casa de Santa Clara cuba 🇨🇺 al 💯 %

Yeider Cardenas

17.07.2022

Buenas tardes se me perdió la placa de la moto EDO 14G por favor hay recompensa muchas gracias

la mejor programacion...saludos desde Killa la bella

Exelente emisora

Marcos Fidel Suarez

13.08.2020

Muy buena rumba la más pega regálame tu número quiero llamar para dar mi voto y mandar un saludo

Miguel Iguaran

09.07.2020

en sintonia desde Catains Nazareth Alta guajira,

Jose Julio Mesa

03.07.2020

Amigos. ¿Por favor, alguien sabe del estado de salud del periodista. José Iguarán?